Archive for June 22nd, 2012
Hennessey Performance announced a new performance upgrade package for Mercedes AMG 5.5 liter biturbo V8 engine. It's an HPE700 pacakge, and there's a clue. It boosts the output of the V8 engine – which is used in almost all '63′ AMG cars; CLS63, E63, S63, G63, GL63, ML63, and more recently SL63 – from 550 or so horsepower to a massive 700 bhp. The torque power is just ridiculous: 800 lb-ft.
Hennessey has not revealed the performance figures for this kit, but given the specs of the standard engine, they should be insane. The first Mercedes to get the package is the E63 shown here, which also gets upgrade brakes and suspension, new wheels and a carbon aero kit with front lip and bootlid spoiler. Here's the ingredients of Hennessey HPE700 package:
HPE700 Upgrade Package Includes:
• HPE Air Induction System Modification
• HPE Engine Management Calibration
• Professional Installation
• HPE Engine Management Calibration
• Dyno Tuning
• Hennessey Exterior Badging
• Serial-Numbered Dash & Engine Plaques
• 3 Year / 36,000 Mile Limited Warranty Available
Read more…
---
Tesla Motors today is making history – at least for its company. The Palo Alto, CA based company is officially commencing delivery for the new Model S electric sedan today (even though it already kind of started).
Check out more news on the Tesla Model S.
Tesla will be showing the delivery ceremony live from Fremont, California starting 3:30 pm Pacific Time (6:30 pm EST) later today – you can watch it all happen right here.
"For three years we have developed this car from the ground up with persistence and passion," Tesla said in a statement. "Thank you to those who believed it could be done. You're the reason we're here today, delivering the car of the 21st century. We won't stop until every car on the road is electric."
---
June 22, 2012 at 2:42pm by Alexander Stoklosa
Following an announcement for Europe, BMW has confirmed that the output for the U.S.-spec V-8–powered iterations of the 2013 5- and 6-series will increase by 45 hp and 30 lb-ft of torque. Specifically, the 2013 550i, 550i GT, and 650i coupe and convertible will inherit the same higher-output version of the brand's twin-turbocharged V-8 as the latest 7-series and new 6-series Gran Coupe.
---
---
The extra power comes from the addition of Valvetronic—BMW's variable valve timing and lift system—to the twin-turbo 4.4-liter V-8. BMW's move to install the more powerful N63Tü engine in the 6-series coupe and convertible, as well as the 5-series and 5-series GT (yes, that misshapen coupe still roams the streets freely), is hardly a surprise. When BMW launched the 2013 6-series Gran Coupe, we speculated that its meatier V-8 could spread to BMW's other models that offer eight-cylinder power. It makes sense for BMW to have all of its V-8–powered offerings propelled by the same powerplant, but strangely the eight-cylinder versions of the X5 and X6 will keep the lower-output iteration of the 4.4-liter engine..
Other Stories You Might Like
Tags: BMW, BMW 5-series, BMW 550i, BMW 550i Gran Turismo, BMW 6-series, BMW 650i |
Incoming search terms:
---
The upgraded 2012 Hyundai i20 is now on sale in Australia, bringing refreshed styling, added safety and a new standard six-speed manual transmission to the Korean city car.
The model line-up remains the same, with the entry-level i20 Active available in three- and five-door form and the higher-spec i20 Elite as a five-door only. Prices have increased $ 100 across the board, meaning the 2012 line-up ranges from $ 15,590 to $ 19,590.
The new exterior styling gives the updated i20 hatch a more confident, sophisticated appearance, drawing inspiration from Hyundai's 'fluidic sculpture' design language with a fresh interpretation of the signature hexagonal grille.
The reshaped bonnet and front bumper embrace redesigned horizontal headlights and sleek fog lights, while a new rear bumper and revised tail-lights update the view from the rear. The side indicators have been relocated to the wing mirrors while the alloys/wheel covers have also been redesigned.
Inside, the 2012 Hyundai i20 benefits from new seat material and piano black inserts on centre console. A trip computer and one-touch triple-blink turn indicators are also now standard.
Incoming search terms:
fluidic i20 2012
leather seat covers for i20
---
Summer is officially here and for most of us that love to drive, getting out on the open highway is as much a necessity as breathing.
We know all too well the weekend routine, you spend all of Saturday cleaning and detailing your BMW, making sure every aspect of the car is spotless. For the next morning is your Sunday morning drive, while the roads are less travelled and you can open up your car just enough to put a huge grin on your face. But also to stop at that magical spot along your favorite road to take some pictures that you've been dying to take for months.
In the US, one such road that is both scenic enough for that wallpaper quality picture you've been dying to take as well as putting a huge grin on your face is California US1, better known as the Pacific Coast Highway.
An exhilarating driving experience, this twisting, cliff-hugging, 123-mile (198-kilometer) route along the central California coast takes about five hours to complete at a leisurely pace. Designated an All-American Road—among the nation's most scenic.
The route starts in historic Monterey, visits the art colony of Carmel, and threads through Big Sur, where mountains plunge into the Pacific. Farther south, the landscape mellows to oak-studded hills as the road passes Hearst Castle on its way to Morro Bay. In places, the road has narrow shoulders and sharp drop-offs, so staying alert is a must.
---
Winterlinger-based tuner Lumma Design unveils the CLR 6 M project based on the new BMW M6 Coupe.
As expected, the super sporty CLR 6 M is fitted with a new aerodynamic bodykit consisting of more aggressively designed bumpers, revised side skirts, front lip spoiler with large air inlets, hood with air vents and rear wing that helps with the downforce. The car also has extended wheel arches, a center-mounted dual exhaust system lightweight and new wheels. The multi-part sports rims by Lumma with 10×21 inch on the front axle and 12.5×21 inch on the rear axle complement the exterior looks.
Inside, the tuner of its customers highly customized options, from leather and Alcantara upholstery to a carbon fiber trim.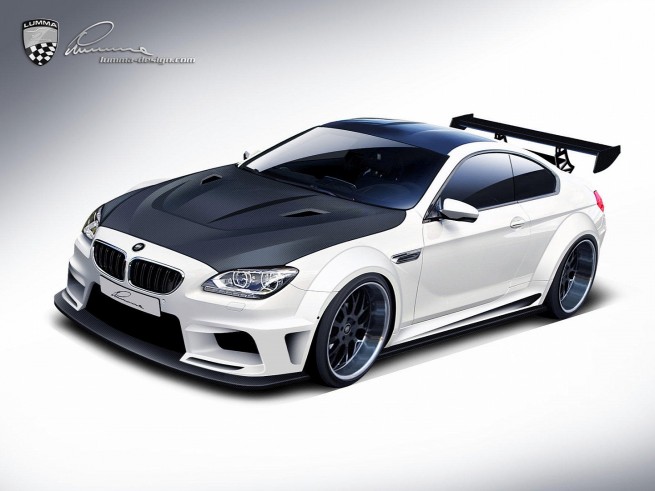 The CLR 6 M will be unveiled later this year and the first deliveries are scheduled to occur in early 2013.
---
Pagani, Supercar Videos — By Lawrence on June 22, 2012 at 4:43 pm — No Comments

A couple of videos have emerged showing the Pagani Zonda 760 RS on the streets of Chile. We can confirm that it sounds fantastic! The owner seems to use the car quite regularly and it has been spotted on the streets several times before. The Zonda 760 RS has joined two other Zonda's in the owners garage including a Zonda F Convertible and a Zonda R. It has been pictured with the owners Ferrari Enzo, F40 and 288 GTO as well.
The Pagani Zonda 760 RS is the most extreme Zonda ever. It features a 760hp engine, some 90hp more than the Zonda Cinque and 20hp more than the Zonda R. Instead of lifting the engine from the Zonda R, it uses a Zonda F as the basis with a range of enhancements, most likely lifted in part from the Zonda R. This means that it has been extensively tested to ensure it is capable of such power outputs.
To view the second video, please click here.
Incoming search terms:
pagani zonda 760 rs
zonda 760 rs
Powered by Article Dashboard performing art center
Powered by Article Dashboard computer parts wholesale
pagani 760rs spotted
PAGANI CHILE
pagani zonda rs price
Powered by Article Dashboard halloween sound bites
Powered by Article Dashboard explosion sound clip
fast car garage
Pagani Zonda 760RS
Zonda 760 RS Chile
---
Are you looking for additional cars review? Check this great website
Motorride.net
.