Archive for June 28th, 2012
Haven't we already seen the next generation of Ford's Mondeo? Well, the answer to that question is a wishy-washy yes and no.
To explain, Ford has decided to go global with its new mid-size offerings, meaning that the new Fusion for North America and the Mondeo for Europe and other markets around the world are for the most part, one and the same.

So nothing really new to see in these spy pictures of a lightly camouflaged prototype that was snapped testing in the European Alps.
During the presentation of the Fusion at the Detroit Show in January, Ford also dropped two pictures of the per-production new Mondeo, but did not provide any information other than that it will go on sale in Europe in early 2013.
We expect to see Ford's rival to the Volkswagen Passat and Citroen C5 to make its European debut at the Paris Motor Show in September.
---
June 28, 2012 at 4:20pm by Justin Berkowitz
For only the second time ever, Mazda may offer a more-powerful, sportier version of its MX-5 Miata. For many fans, this would be welcome. For others, Miatas are already too large, too heavy, and too powerful. If you fit into the latter category—the same folks who don't realize that the Lotus Elan's lightweight construction is part of the reason why they break so frequently—it's time to read something else.
The 205-hp MX-5 GT concept debuted at the Goodwood Festival of Speed in England this week, officially as an experiment to "gauge interest" from the public in such a vehicle. We think the decision is all but made, though, and that's why the list of mods is so detailed. Mazda outsourced tuning efforts to Jota Sport, a British company that builds track cars for Mazda—and operates a Le Mans team. In creating the MX-5 GT, Jota Sport boosted the naturally aspirated 2.0-liter four from its standard 167-hp output.  Other additions include an adjustable suspension, lots of carbon-fiber aero enhancements, Recaro seats, and a sportier exhaust.
---
---
The MX-5 GT seems cool, but lacks the hipster appeal of the Super20 concept from 2010. Mazda's last attempt at a tuned MX-5 was with the turbocharged Mazdaspeed Miata some seven years ago; it turned out to be a pleasurable drive, albeit a bit on the sterile side. This MX-5 GT, though, with a high-revving naturally aspirated engine and an eye on track usability, has some real potential—that is, if they ditch the concept car's racing slicks.
Other Stories You Might Like
Tags: Mazda, Mazda MX-5 GT, Mazda MX-5 Miata |
---
What Switzer Performance believes they've done with this Ultimate Street Edition GTR is making a 1000-hrsepower car that can be driven everyday and for any purpose, without a single technical glitch or inconvenience that overpowered tuned cars usually suffer from. You can take this car to the drag strip, do mind-blowing runs, and then drive it home in the traffic, buying some groceries on the way.
The trick to this is starting with a basic R35 GTR and revising every part to arrive at a 1000-hp car that won't overheat in traffic, or remove your neck from its mountings every time you change gear. The street edition GTR does not need race fuel to make that kind of power, and it makes the performance more accessible for more of the time.
This car has bespoke turbochargers, transmission and exhausts – as well as other bits and pieces inside the engine – plus softer suspension an tires, quieter mufflers, and normal ride height. In brief, this GTR is as smooth to run as the standard car. It just happens to have 500 more horsepower!
"Far too often," explains Tym Switzer, "I talk to people who think that what they want is that last thousandth of a second, regardless of the cost. For the few that can really wrap their heads around what that means – that the car will shift abruptly, that it'll run hot in traffic, and that they'll have to run specialized racing fuels in order to get the most out of the car and keep it happy. For them, our R1KX or XXX GTRs will give them what they want: the baddest, fastest GTR that money can buy. For people who want a 1000+ horsepower car that they can drive comfortably every day, to the track or the office or the grocery store, on the highway or in bumper-to-bumper traffic, we've built this car."
Incoming search terms:
future nissan gtr
switzer gtr ultimate street edition for sale
switzer ultimate street edition gtr for sale
---
1999 Ford Ranger EV
Incoming search terms:
---
Before I hopped into test-driving the Buick Verano for a week-long review, I had to let go of the notion that this was a car from the brand plagued with being the car for the elderly. Having driven the Buick LaCrosse and the new Enclave, I knew that today's Buick vehicles are nothing like the ones from the past. Today's Buicks are firmer, smoother and have a broader scope.
When I first heard that Buick was working on a compact sedan based on a Chevrolet Cruze, I was a bit taken aback. Of course, the reason behind the Verano's existence is to grab the attention of young affluent crowd to the brand. But could the Verano really offer an alternative to its other luxury competitors including the Lexus IS or the Acura TSX?  Let's find out.
2012 Buick Verano Specifications:
Style: Sedan.
Seating Capacity: 5.
Base Price: $ 22,585.
Price as Tested: $ 27,645.
Engine: 3.5 liter V6 – 265-hp at 6,400 rpm / 248 lb-ft at 4,400 rpm.
Transmission: 6-speed automatic; 6-speed manual.
0 to 60 mph: 8.2 seconds.
Top Speed: 118 mph.
Curb Weight: 3,300 lbs.
Fuel-economy: 21/32 mpg (city/highway).
Incoming search terms:
Buick Verano Interior
2012 Buick Verano Interior
2012 Buick Verano Sedan
buick verano interior images
---
BMW, Goodwood Festival of Speed 2012 — By Lawrence on June 28, 2012 at 5:59 pm — No Comments

We stopped by the BMW stand at the Goodwood Festival of Speed 2012 today. There's plenty to see including the new BMW M6 and the Convertible model. Also on display is the BMW 640i SE Gran Coupe, the new BMW M5, the BMW M3 and M5 Performance Editions and the special edition BMW M3 Chrome Bullet.
BMW will be presenting the BMW M6 Coupe and Convertible tomorrow as part of the Festival of Speed supercar run. Both cars will be heading up the hill twice a day for the next three days!
---
The new BMW 3 Series xDrive and ActiveHybrid are now available to be configured on www.bmwusa.com. The xDrive version of the refreshed 3 Series will be available this fall and in the U.S. will come in two variants: BMW 328i xDrive and 335i xDrive. Starting price for the 2013 335i xDrive is $ 44,800.
The cars can be also configured with the M-Sport package which adds 18-inch or 19-inch lightweight wheels as an option. Included in the M Sport pack is an M-tuned suspension which lowers the car by ten millimeters and offers stiffer spring rates and damper settings as well as stronger stabilizer bars.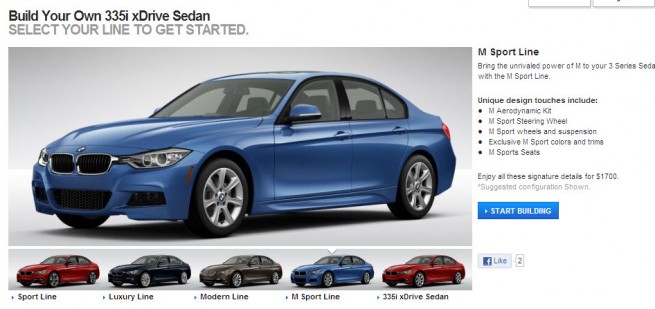 BMW Individual High-gloss Shadowline trim gives the car the typical M look. An optional M paint is also offered – Estoril Blue, as well as M Sport brakes with contrasting blue paint finish. Special aerodynamics cues, front and rear bumpers, sill covers in body color and a striking diffuser insert in Dark Shadow Metallic on the tail, and chromium exhaust pipe finishers underline the sporting character of the M Sport package.
All of these upgrades add up to $ 3,200.
---
Are you looking for additional cars review? Check this great website
Motorride.net
.