Archive for July 27th, 2012
There have been drastic changes in the requirements for individual mobility concepts, in particular for conurbations. More than ever before, individual mobility is defined today in terms of sustainability. Growing traffic volume, rising energy costs and constantly increasingly stringent CO2 restrictions on vehicles in inner cities – these are the challenges of the future.
The BMW Group has recognized these challenges and is developing serial production solutions to meet the mobility needs of today and tomorrow. As an integral part of the BMW Group, BMW Motorrad is addressing issues of individual single-track mobility and future customer needs and is developing appropriate solutions in response. In this connection, BMW Motorrad has expanded its business activities with the addition of the facet "Urban Mobility", presenting two serial production vehicles in 2011 – the maxi scooters C 600 Sport and C 650 GT.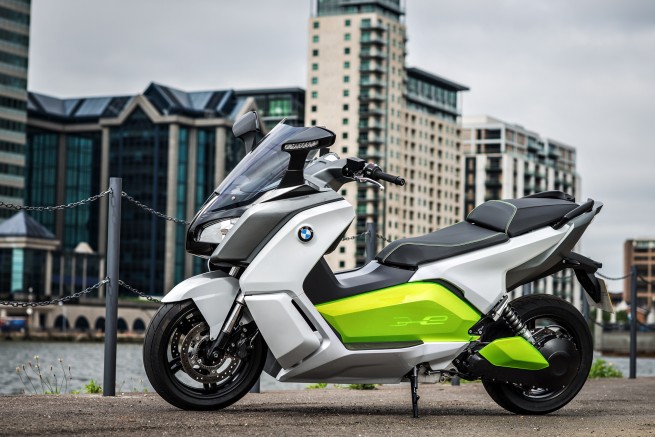 Following the BMW Group's sustainability strategy, BMW Motorrad aspires to consistently pursue electromobility at this early stage, especially in the urban environment. In a similar way to BMW i in the automotive division of the BMW Group, BMW Motorrad's accelerated development of single-track mobility likewise stands for visionary vehicle concepts and mobility services – as well as inspiring design and a new premium philosophy clearly defined by sustainability across the entire value creation chain.
BMW Motorrad will thus be launching an appropriate premium product on the market in the foreseeable future. The concept vehicle E-Scooter was presented at the BMW Motorrad Innovation Day 2011 as the first development stage in this direction. Due to their limited performance and range, purely electrically powered scooters have been suitable almost solely for inner-city use with a restricted range of operation up to now. With its sustainable technological solutions, however, the concept vehicle BMW E-Scooter already shows a significantly extended range of operation. Shortly after this, the second development stage saw its premiere at the IAA in Frankfurt: the design study of an e-scooter made by BMW Motorrad – BMW Concept e. This embodies the aesthetic vision of an electrically powered scooter.
Incoming search terms:
rolling friction pictures of cars
---
It's from Italy, it's a tiny subcompact and it makes 160-hp – the Fiat 500 Abarth has to be an outstanding piece of machinery right?
Jay Leno recently had the pleasure of driving one and ended up pulling some sleek tire burning fun.
Check out the video after the jump.
Refresher: Power for the 2012 Fiat 500 Abarth comes from 1.4 liter MultiAir Turbo engine making 160-hp with a maximum torque of 170 lb-ft. The 500 Abarth also features Abarth-tuned suspension, brake systems and dual exhaust, turbo-boost gauge with integrated LED shift light and 16-inch aluminum wheels. Prices start at $ 22,000.
---
Tesla Store – Portland OR
---
2013 Hyundai Elantra Coupe
Incoming search terms:
Powered by Article Dashboard trade show stand construction
Powered by Article Dashboard hummer h2 interior
elantra coupe 2013
---
The Mercedes-Benz ML63 AMG is the latest iteration of the first SUV to bring supercar-like performance to a segment more typically associated with soccer mums.
BMW's M division only started placing its famous capital letter on the brand's softroaders in recent years (X5 M and X6 M), and Audi has only just introduced its first sporty SUV, the SQ5.
AMG, however, started tuning SUVs back in 1999, with the arrival of the ML55 AMG. Based on the first-generation Mercedes-Benz M-Class, the formidable ML55 packed a 255kW 5.5-litre V8 by AMG plus a host of performance features and modified bodywork.
The ML55 AMG could accelerate from 0-100km/h in 6.8 seconds and had a top speed of 235km/h – then unprecedented figures in the SUV world.
AMG's super-SUV found favour with plenty of willing customers, with more than 11,000 ML55s sold between 1999 and 2003.
---
Lombard Street, the windy San Francisco road with the line of cars and gaping socks-in-sandals tourists, isn't the twistiest road in the city (that title belongs to Vermont Street), but it's a sunny stage that's ideal for public stunts. And MotoGP racer Stefan Bradl wended his way down the street on his racing-spec motorcycle four times for a Red Bull promotional video.
Bradl is the 2011 Moto2 Champion and, at 22 years old, competing in this weekend's MotoGP race at Laguna Seca. Think of Lombard as a warm up for the course's infamous Corkscrew. Besides the curves, which 2011 Moto2 champion Bradl is used to, the street is made of bricks that have been polished slick after decades of traffic. Even after using tire warmers, he kept his speed low, but the exhaust broadcast all 1,000cc of the engine in his Honda RC 213V.
After the ride on Tuesday morning, Bradl and team owner Lucio Cecchinello went down to Stanford University's Automotive Innovation Facility to talk risk and safety in motorcycle racing with moderator and IDEO partner Diego Rodriguez. Bradl and Cecchinello rapped about how they get the fastest lap times while keeping the rider on the bike with everything from rest and a strict diet, to tire warmers and braking points. As Cecchinello said, "We need to approach the limit, but not overtake it."
The race weekend started on Wednesday when Bradl arrives and eats a special diet. He keeps fit, plans his braking strategy for the first turn when his carbon stoppers are still cold, and then, when time nears to the green flag, he moves around to get blood flowing. "I need to warm up my body before getting on the bike, just like the tires," he said.
Incoming search terms:
largest vehicle to fit down lombard street
---
This time the ZL1 is not pitted against the Shelby GT. It's facing a much tougher competition this time, and it comes from 1969. Well, only the fabulous body comes from 69, the rest of it is new and unbelievably awesome. We're talking about Mark Stielow's Red Devil '69 Camaro – a 750 hp and 800 lb-ft monster. This should be quite interesting.
The Red Devil features a 427ci, supercharged LS9 engine and modern suspension from Detroit Speed, who makes systems for ProTouring race cars. On the other hand the Camaro ZL1 benefits from a 580 horsepower supercharged V8, lots of electronic systems and a suspension with Magnetic Ride Control.
Check them out in this episode of Hot Rod:
Read more…
---
Are you looking for additional cars review? Check this great website
Motorride.net
.