Archive for August 8th, 2012
You might think that the wealthiest individuals in society–commonly known as the 'top one percent'–would flaunt that wealth with Ferraris and Porsches.
On the contrary, it seems that they prefer to remain fairly low-key on the roads–and that the humble Toyota Prius is one of the most popular choices.
---
AutoWeek reports on some new details that have seemed to have emerged surrounding BMW's next generation M3. For one thing, it's been pretty well received that this upcoming M3 will ditch it's 4.0L naturally aspirated V8 heart for six forced induced inline cylinders, the first ever for the M3.
Word is that the sedan will be the first to be unveiled. Internally dubbed as the F80, it's expected to appear as a concept at the Geneva Motor Show next year. A showroom ready version will debut at next year's Frankfurt motor show.
That said, if BMW's schedule holds up, that means North America can see the M3 by the winter of 2014. The sedan will be spearheading the slow-trickle of M3 variants, which will be followed by a coupe, a cabriolet, and even a Gran Coupe variant that may take the new "M4" nameplate.
Of course, expect the usual dosage of subtly aggressive body work inspired by ones found on the current M5 and the M6.

Mechanically, rumors have been circulating for quite some time that BMW may drop its long-standing tradition of utilizing straight-six motors in favor of a 3.3L V6 based off of the M5's 4.4L V8 for the M3. But this is apparently not true, as a "high-ranking source" said: "This is utter rubbish. Packaging considerations aside, there is no reason for BMW to abandon its tradition of straight six-cylinder power—neither from a performance nor a production standpoint."
---
The first true Holden Cruze hot-hatch has been unleashed in Australia, with homegrown tuning company Walkinshaw Performance unveiling a high-performance version of the locally made small car with a price tag just below $ 50,000.
Based on the $ 28,490 Holden Cruze SRi-V 1.4 iTi hatch, the $ 19,995 WP Cruze Hot Hatch package introduces a number of visual and performance upgrades for a total cost of $ 48,485 before on-road costs.
Power from the Cruze's turbocharged 1.4-litre petrol engine has been boosted 75 per cent (up from 103kW to 180kW), while torque has also climbed 55 per cent (from 200Nm to 310Nm).
Walkinshaw Performance estimates the WP Cruze will launch from 0-100km/h in 6.6 seconds, making it roughly three seconds quicker than the standard Cruze SRi-V. Official speed tests are yet to be completed, but the company's general manager, Tony Harris, told CarAdvice he believes it will become the first Cruze in the world to run the quarter-mile in under 15 seconds when it's put through its paces later this month.
Walkinshaw Performance says the Australian-engineered performance upgrades are the result of hundreds of hours of testing, refinement and collaboration and have been delivered "without compromising the driveability of the vehicle".
Incoming search terms:
---
All over the world enthusiasts collect 1:18 and 1:43 scale models of vehicles that define their own personal love for automobiles. Precision Sport Industries created an E30 M3 Matte DTM race car using a 1:18 scale model as a guide.
The DTM project was done with matte in mind and the mod list includes S52 Swap w/ OBD 1 Conversion, full custom exhaust and RD Sport RHD Headers, Euro 3.5 HFM w/ 24 lb injectors, Custom AA tuning, 3M Matte Black Complete Wrap, 3M Matte DTM Livery w/ Custom Cut Matte Decals and Lambo Pearl Yellow Striping, 17 inch Hartge 3 piece Wheels, TC Kline Racing SA Coliover Suspension and RECARO Pole Position Seat.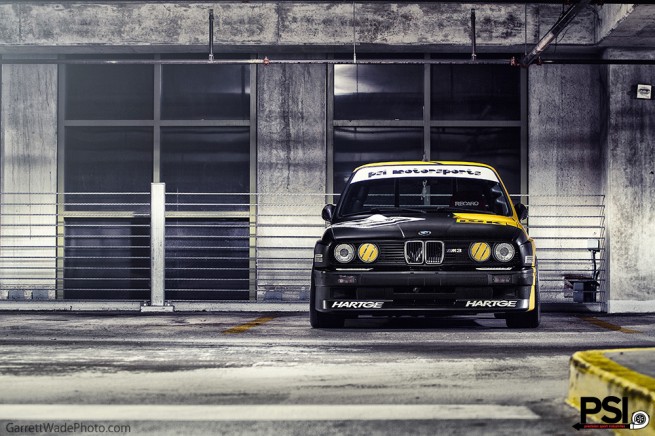 Based on the 1986 model year E30 3-Series, the first M3 was introduced with a 2.3 L I4 S14B23 engine (also known as S14). The engine design was based on various BMW parts: basic block layout from the M10 4-cylinder (found in the 2002 and 320 series) overbored and reinforced to similar specifications of the BMW M88 inline-6. To this date, the E30 M3 is considered one of the most emotional M vehicles to date and a darling of BMW enthusiastic community.
---
Official Photos and Info
arrow
---
Car News, Porsche — By Lawrence on August 8, 2012 at 3:45 pm — No Comments

Former Porsche Chief Executive, Wendelin Wiedeking, and Finance Chief, Holger Haerter, will have to wait three months to hear whether German prosecutors will bring charges of Market Manipulation in relation to the companies failed takeover of Volkswagen Automotive Group. A police-led probe into the affair has now been concluded.
The charges relate to comments made in March 2008 when the company dismissed as speculation, reports that they were planning a potential takeover of Volkswagen. Seven months later, Porsche revealed that options gave it control of almost three quarters of VW. This caused shares to skyrocket, making Volkswagen the world's most valuable company for a short period.
Sources suggest that prosecutors in Stuttgart are about to give case files to Wiedeking and Haerter's lawyers. We're told that they will have to wait three months to hear whether charges will be bought. If found guilty, Wiedeking and Haerter could receive custodial sentences of up to five years.
Incoming search terms:
Powered by Article Dashboard ksa example
---
The new Aston Martin Vanquish is still in its final testing phase and Aston is yet to let a civilian drive it. Which is why it's a privilege for car magazines to be allowed to ride shotgun with engineers and test drivers as they go for a spin. We saw Evo going for a spot of ice-driving in the car, and now we have a video from Autocar, tagging along with the Vanquish chief engineer on some twisty mountain roads.
Besides amazing scenery and a good look at the stunning Vanquish in a gold color, the video also delivers great information about the car's exquisite little details. Check it out below:
This article was last updated by Arman Barari on .
---
Are you looking for additional cars review? Check this great website
Motorride.net
.