Will the Sprint Cup ever come to Montreal?
We're hours away from the NASCAR Nationwide NAPA 200 in Montreal, and rumours of the Sprint Cup coming to Circuit Gilles-Villeneuve are flying high again.
For those who don't know, Nationwide is the Sprint Cup's farm system, a lower-tier series for the stars of tomorrow. You won't see all the big guns like Tony Stewart, Jeff Gordon, Jimmie Johnson and Dale Earnhardt Jr.
Yet, Montreal has recently been voted as the "best Nationwide race," a distinction that François Dumontier (the event's promoter) is quite happy to brag about.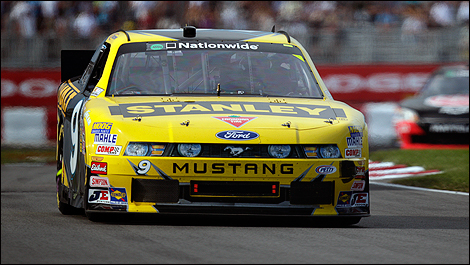 Photo: Sébastien D'Amour
You see, the other races in the Nationwide series are often held on Saturday afternoons in front of (partially) empty bleachers, whereas more than 60,000 fans attend the Montreal show.
And that's certainly what it is: a show. These 3,500-lb machines pack quite a punch with their thundering V8 engines that crank out 650+ horsepower. Of course, they're more like elephants in a jewelry store than cheetahs in the savanna, but the fact that many local drivers are competing makes the race compelling from start to finish.
Given the huge success of Nationwide in Montreal, why don't NASCAR executives make it a stop on the Sprint Cup calendar ? Dumontier would obviously be ecstatic, but unfortunately he doesn't have any sway in the decision.
NASCAR remains an American affair, and while a Sprint Cup race in Montreal would attract just as many fans if not more, the sponsors who pay millions of dollars to have their names and colours on the cars will quickly tell you that Canada's second-largest – and North America's fifteenth-largest city – is not the market they're after.
It doesn't help that Circuit Gilles-Villeneuve is a road course. NASCAR drivers, American fans and stock car purists by far prefer oval speedways. And since there are already three Sprint Cup races on road courses, they don't want a fourth.
Lastly, Sprint Cup cars don't use rain tires. Should Mother Nature be in a bad mood, as is often the case, there would be no action at all. Teams would just wait in the pits while the sun returns and dries the track.
Bottom line: Some people will have to change their stance and attitude in a big way if we hope to see the very best NASCAR drivers – not just Formula One's – in Montreal.

AUTO123.COM – RSS
Incoming search terms: